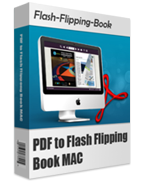 $99
For Mac OS 10.6
(Not for PowerPC)

PDF to Flash Flipping Book for Mac
Make digital flash flipping book on Mac quickly and easily!
Obtain animated digital magazines, digital brochures and digital catalogs on Mac immediately;
A variety of templates and themes (50+) available;
Make flipping book to be printable and downloadable with ease;
Design your publications with several preset skins, as well as various customization tools;
High-quality magnification features, which allow your readers to zoom in on desired photos and print with exceptional quality;
Import hyperlinks, bookmarks;
Free and easily share flipping book or magazine online via email, sociel networks etc.
Enable your book to flip automatically as you like;
Support multilingual version (10 kinds of languages available);
Create a multi-level flippingbook table of contents directly from PDF documents;
Can also read flipping book on PC;
Google Analytics Integrated;
Make mobile version of flipping book to view on iPad, iPhone, Android Mobile devices.
Free TrialBuy Now
Flash Player 10.0+
Why Use?
Features
Screenshot
How It Works
PDF to Flash Flipping Book Mac is a flip book software for the Mac users which provides the best way to create digital flash flip book from Adobe PDF files. It only takes you little time to make professional flipping book on Mac even though you know little about advanced computer knowledge. Okay! Come to check out the reasons why you shall choose us as follow: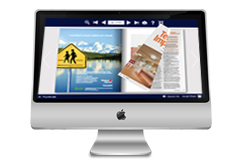 1.Build amazing digital publications on Mac OS X
You guys might really into the Mac OS X and look forward to saying goodbye to the plain and static PDF flies. Therefore, PDF to flash flipping Mac is the perfect solution to it. All it takes is few seconds that you can build digital magazines, brochures, and catalog on Mac!
2.Interactive page turning
With PDF to Flash Flipping book Mac, you can create a vivid book with interactive page turning effect wihtin just few seconds, which gives the familiar look and feel of a printed magazine.Can you imagine? You would definitely appericate such works of art.

3.Branding your own digital flash flip book
There are lots of settings you can define. On one hand, you can define book title, the book logo and flipping time and so forth. On the other hand, you could be a good painter for your book because the colors in every part of the page could be edited,whether the toolbar color, font or even the button icon .
4.Thumbnail View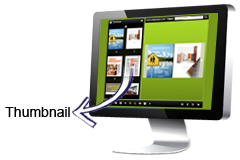 Do you feel puzzled while reading a great number of pages?Now you can see mini pages of the issue with the function of thumbnail. It allows readers to quickly get an overview with links to each page.
5.Support multilingual version
There are 10 languages available in our PDF to Flash Flipping Book Mac. You can select the languages you need, whether one or more, and make it switchable. In this way that you can reach more audience no matter what language they use.
6.Contribute to our environment by e-reading
Social Networks transformed into a new and efficient way of sharing and distributing information. You can use it for your publications with the built-in easy sharing interface. Reach your audience, find new clients and business partners not only though your web-site, but also via Facebook and Twitter. Do so by publishing your catalogs, brochures and digital magazines on those web-sites they like visiting the most.
7.Alternative output format

After finish your digital flash flip book, you can output in either apps or html.Moreover, apps allows you to publish stand-alone software which can run on Mac while html allows you to upload your book to the Internet.
5.Google Analytics Integrated
Turn your publication into an efficient marketing tool. Link your publication to your Google Analytics account to monitor its popularity. This tool will help you to build a more effective strategy for dealing with your clients and business partners.
You must be curious about the number of people who have read your book after you publish it online, now the function of Google analytics integrated in PDF to Flash Flipping Book will help you make it. In this way you can easy know the popularity of your published books, and help to improve the page usage and build better campaigns.
8.Upgrade forever with no additional fee
Once you purchase PDF to Flash Flipping Book Pro, you will be enabled to free upgrade through downloading the latest version from our website. Your using version will keep ahead of state-of-the-art technology and with no more upgrading cost.

9. 30 Day money back guarantee fee
We are confident that our products are of good quality and our price is extremely reasonable.But if you are dissatisfied with our products or service for any reason,please feel free to ask us for a refund by mail us at support@flash-flipping-book.com within 30 days.
10. One-off cost, unlimited conversion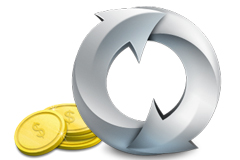 You can convert your PDF files as manty times as you want once you purchase our product. Neither subscription fee nor other fee needs to be paid. In addition, you won't be limited to a single website.
Basic features
1. Convert any PDF (including its bookmark,hyperlink etc) to adobe flash based flip book;
2. Import all the pages from original or just some pages based your needs;
3. Define the quality and size of the book whatever you like ;
4. Preserve the hyperlink including web link, page link and email link of the original pdf flies in flipping book ;
5. Import or edit bookmark to divide the book into categories for easy reading;
6. Select a built-in theme or template (classical, float, neat, spread) as you like ;
7. Add your own book title or book logo to the flipping book button bar ;
8. Show or hide home button, help button, print, download to make your book more flexible and powerful ;
9. Define content of help window, also the looks and feels;
10. Decorate eBook with your favorite color;
10.1 Define button color, icon color ;
10.2 Set font color, whether window font, book mark font, window font;
10.3 Design background color, flash window color and page background color ;
11. Insert a sound file which will be playing as a background book music ;
12. Use zoom in/zoom out unlimitedly and set zoom scale ;
13. Share with your friends via email or upload it to social network like FaceBook, Twitter, Digg, Google, etc;
14. Support auto-flip with flip-interval and play count setting;
15. Enable single page or double page view mode ;
16. Define Multilingual version books for different language users;
17. Add book frame bar to flip much easily ;
18. Set book reading from right to left for words start with left languages;
19. Design hard cover to enhance the reality of the book ;
20. Preview the effect after setting right away ;
21. Output the book in flexible formats (HTML, APP) ;
21.1 HTML is a format which allows you to upload your book to the Internet. ;
21.2 App (Mac application) is a stand-alone utility which can be run on Mac
22.Google Analytics Integrated.
Viewer features
After you finish your book, the book Mac viewers will be enabled to:
1.Drag the corner of the page to go to previous or next page;
2.Click the page arrow or page frame to reach the previous or next page;
3.Use thumbnail button to navigate fast through a large publication;
4.Just need a few clicks on navigation buttons to go to previous page, next page, first page and last page.;
5.Click help button to get a hand when needed;
6.Print out the whole book or some pages only;
7.Make the book full screen for convenient reading;
8. Zoom in/ zoom out on pages if the page font is too small to read ;
9.Turn on/ off the background music;
10.Flip with a single page or double pages;
11. Share with anyone via email, Face book, Twitter, Digg, Google etc;
12. Enjoy this digital publication on iPad, iPhone and Android devices.