FREE
For Windows 7, Vista, XP

Free Flash Flipping Book Maker
Build page turning e-books with text files for free!
Add book title to make your own book differently ;
Support hardcover to enrich the feeling;
Involve yourself to your favorite background music;
Support full text search to get the info you are looking for;
Customize the look and feel of your book .

Want toconvert PDF to amazing flipping book ? Come to

check here

right now!
Download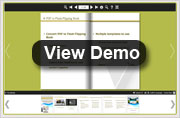 Flash Player 10.0+
Why Use?
Features
Screenshot
How It Works
Free Flash Flipping Book Maker,a completely free program which is designed to let you enjoy page turning e-books from your static text files. It provides a lot of creative options, like you can define what kind of music your book plays or adding a hardcover to enhance the feelings. And you can choose from one type of output (html, zip, exe) after finishing your interactive E-book. In addition, you can enjoy reading flipping book on iphone, ipad, and Android mobile devices.
1.Completely free of charge
You don't need to pay us at all after you download this freeware convertor. Moreover, you can convert your text files to flipping book as many times as you want, anytime and anywhere.
.
2.Entirely new experience of reading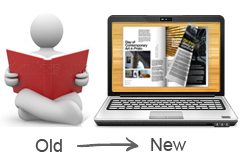 In an age of information, how can you do reading in a convenient and modern way, today, we get Free flash flipping book maker which helps to convert text files to flipping book, that looks and feels like a real book. No matter flip pages with realistic page turning effect, or embedded beautiful background music, all these fantastic features in the page turning e-books will let readers experience differently and excitedly.
3.User friendly interface
You might be upset that you don't have any programming skill while using this freeware,but never mind, while using our application, the easy-to-use interface will make you clear right away.Once you click the buttons, the detail instructions will display on the bottom of the interface,which would help to save your precious time.
4.Control over your eBooks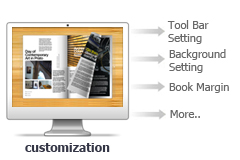 You can totally control how gorgeous your eBooks look and read while using free flash flipping book maker software. You can set the background music, button icon color, bookmark font and color, and many other detailed designs. Also you can set permission for download, share, print and so forth.
5. .Mobile Device Support
With using Free Flash Flipping Book, you can output eBooks in many kinds of formats, such as Exe, Zip, Html, and Also mobile compatible format, which enable readers to view your books in the browser of mobiles, like iPhone, iPad and Android devices. Therefore, your publication will be viewed at any time whether readers are at work in office.
Basic Features
1.Convert any text files to adobe flash based flip book;
2. Support fullscreen view of flipping book;
3. Import all the pages from original or just some pages based you needs ;
4. Define the quality and size of the book whatever you like ;
5. Set a exclusive watermark which is only belong to yourself ;
6. preserve the hyperlink including web link, page link and email link of the original Wordflies in flipping book ;
7. Import or edit bookmark to divide the book into categories for easy reading ;
8. Import whole book text content to enable full-text search , useful for bigger page flips;
9. Add your own book title or book logo to the flipping book button bar ;
10. Show or hide home button, help, print, download to make your book more flexible and powerful;
11. Define content of help window, also the looks and feels ;
12. Decorate eBook with your favorite color ;
----12.1 Define button color, search highlight color, icon color;
----12.2 Set font color, whether window font, book mark font, window font or search result font ;
----12.3 Design background color, flash window color and page background color ;
13. Insert a sound file which will be playing as a background book music;
14. Use zoom in/zoom out unlimitedly and set zoom scale ;
15. Share with your friends via email or upload it to social network like Facebook, Twitter, Digg, Google, etc ;
16. Support auto-flip with flip-interval and play count setting;
17. Enable single page or double page view mode;
18. Define Multilingual version books for different language users;
19. Add book frame bar to flip much easily ;
20. Set book reading from right to left for words start with left languages;
21. Design hard cover to enhance the reality of the book ;
22. Set a password to prevent disallowed accessing;
23. Use GOOGLE analytics to know the number of people who have read your published book ;
24.. Preview the effect after setting right away ;
25. Export and save the project if you think everything is okay ;
26. Output the book in different formats (HTML, ZIP, EXE, Mobile version, burn to CD);
----26.1 HTML is a format which can make you upload your book to the Internet . ;
----26.2 ZIP is a format which allow you share the book with your friends via email;
----26.3 EXE is single output format which allow book reading separately;
----26.4 Mobile version is for people to read ebooks on iPhone, iPad and Android devices ;
----26.5 Burn to CD/DVD lets you send the book in the physical form to customers or people you want to share as a gift.
Viewer features
After you finish your book, the book viewers will be enabled to:
1.Drag the corner of the page to go to previous or next page ;
2.Click the page arrow or page frame to reach the previous or next page;
3.Use thumbnail button to navigate fast through a large publication;
4.Just need a few clicks on navigation buttons to go to previous page, next page, first page and last page;
5.Click help button to get a hand when needed;
6.Use search button to find out the page to get related info;
7.Print out the whole book or some pages only ;
8.Make the book full screen for convenient reading;
9. Zoom in/ zoom out on pages if the page font is too small to read;
10.Turn on/ off the background music;
11.Flip with a single page or double pages;
12. Share with anyone via email, Face book, Twitter, Digg, Google etc;
13.Download the ZIP or EXE book from website to read locally directly ;
14. Enjoy this digital publication on iPad, iPhone and Android devices