Magazine Publishing Platform for Increasing Your Sale Conversion Rate
It has been regarded as an effective promotion way to publish digital magazines with coupons, discounts and group purchase preference. Sometimes these digital magazines succeed in driving traffic to the advertiser's site while it won't guarantee that the traffic will convert into the actual sale amount in the end. Magazine publishing platform is here for you to increase the sale conversion rate to a large degree. FlipHTML5 offers you an opportunity to create an e-magazine with attractive layout, impressive contents and comfortable reading experience.
Here is an example created by the FlipHTML5: http://static.fliphtml5.com/web/demo/hard%20graft/index.html#p=1
Design an Attractive Layout
You are not expected to obtain any programming skills to turn your static PDF magazines into vivid magazines with page-flipping effect and sound. Then you can choose different templates, themes and dynamic scenes to make your e-magazine more vivid. What's more, you are also allowed to add the flash animation into your flip magazine. At the same time, adding soft background music in your flipbook is also a recommended way to make your readers more patient to finish your magazine.
Provide Impressive Contents
Impressive digital contents stimulate purchasing desire of your readers and even yourself. On the one hand, you can make the best of the multimedia including the links, images, photo slideshows, buttons, hotspots, e-commerce tool, dialogue and so on, which can bring your e-magazine to alive. On the other hand, magazine publishing platform ensures a smooth transactional process by providing a direct purchasing interface and minimizing the number of clicks required to check out. With the detailed product information and easy purchasing interface, the sale conversion rate will increase gradually as you wish.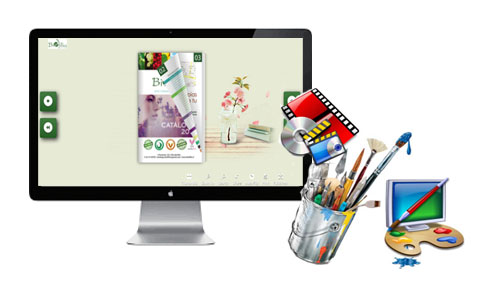 Support Multi-platform Conversion
FlipHTML5 is the high-compatible software which can be run on different devices including the PC, Android devices, Apples, iPads and tablets. It means that you can convert your digital magazine into flip-paging magazine anywhere anytime and read them whenever and wherever you want. Finally the orders will increase step by step because of its high-compatibility