How to share flipping book on social networks?
Nowadays more and more people would like to make entertainment on social networks. Maybe social networks have become their relaxed place to enjoy life. I'm a publisher of online e-books, and recently we have published some digital books by your flash flipping book. It's really good, but there is a question, how can readers to share our e-books on social networks? We can't find the social share buttons on flash flipping book, but we know your flipping book maker has this function. Does the flash flipping book maker have problem?
No, our flash flipping book has not problem. There is one possibility you can't see the social networks. When you customize the template settings of flipping book, please make sure that the social share button to be "Show". If not, you can't see the social share button when you view flipping book.
Follow our steps to check the "Social share button": "Design Setting" – "Tool Bar Settings" –"Buttons Bar" - "Share" – "Social Share Button", then choose the choose "Show" of social share button.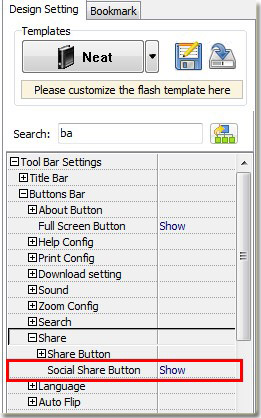 Then on the flash flipping book interface, readers can easily share flipping on social networks such as Facebook, Twitter, Diigo etc. with clicking social share button.