How can I define the title of flash flipping book?
Hey I have used your flip book software for almost one month, it has really a lot of powerful functions which help me to design flash flip book well. Especially I can easily share with friends, colleagues by email or directly on facebook, twitter and other social networks. But I have a problem about designing flip book template. Where can I add book title of my flash flipping book?
Hi friend, only in Float templates can you add book title.
Follow one step to define your book title of flip book. "Design setting" – "Tool Bar Settings" – "Title Bar" – "Book Title", then you can input book title of "Book Title" option.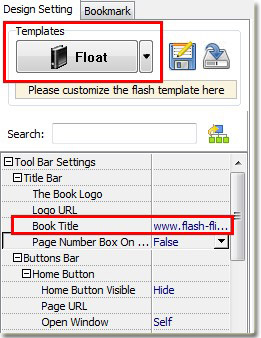 You can apply change to see the book title of flip book. The book title would be on the left top of flip book window.
Enjoy your time to design flip book by our flipping book maker.