Enable download button of flipping book?
I am interested in your flash flipping book maker, and I have seen the descriptions and features of flash flipping book. There is one feature I am very interested in, that's download button. How can I enable download button to make readers to download my flipping book online?
It's easy for you to enable the download button of your customized flipping book. Once you design the setting of flipping book templates, you can define the download button with inputting the download URL. You just need to be sure that your download URL is the same domain as the flip book uploaded URL.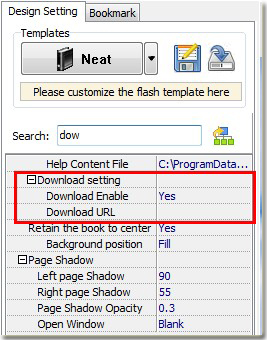 Lastly, please do remember to make "Download Enable" to be "Yes". Then you can see the download button on your customized flipping book interface, viewers can easily download your flipping book with clicking download button.
More pre-designed beautiful templates for flipping book: Flash flipping book templates