Details about Neat and Spread templates of flipping book?
Here we would like to tell you more details about Neat and Spread template in order to help you to be more familiar with flash flipping book maker. In addition, you can also make fantastic flipping book with ease.
Neat template: The Neat template of flipping book is newly developed which would provides you a stylish and fresh look for you to design more stunning page flipping book. In Neat template, you can add brand logo in the top toolbar, show or hide thumbnails at bottom, customize bit icon to control page turning, and set per flipping page thickness to make flipping book more realistic etc.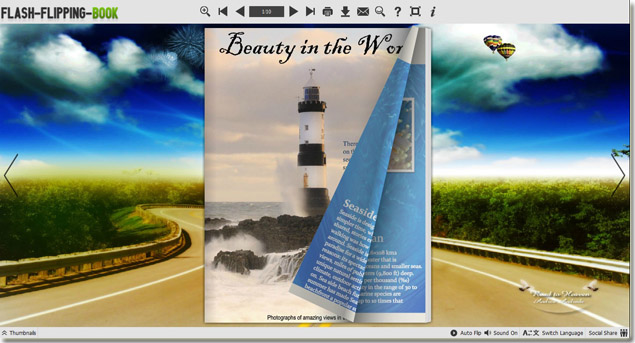 Spread Template: The Spread template shows you all the buttons on the left and top of your page turning flip book. So if you don't want to show the toolbar on the bottom, you can use Spread template. On the left of flipping book interface, you can show or hide thumbnail. In addition, there are many features provided in this template too, such as add Page URL to home button, set full screen, search enable, add bookmark and so on.
More pre-designed beautiful templates for flipping book: Flash flipping book templates