Customize page shadow to make flipping book more realistic?
When people read paper book, the pages would have shadow. For this reason, our flash flipping book maker has added this effect of online book to make it more realistic. Follow our steps to make your company brochure or e-learning guide or e-magazine more realistic easily:
Step 1: Input search character to find the "Page Shadow" setting option with amazing search function of flash flipping book maker.
Step 2: Define the left page shadow, right page shadow and page shadow opacity of flipping book as you like.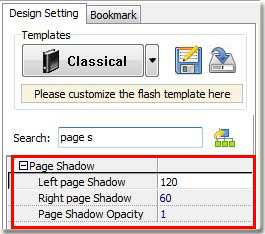 Lastly, click "Apply Change" to see the page shadow of realistic flipping book.